Arthroscopy Surgery For Knee In Bangalore
In Knee Arthroscopy the doctors can view the knee joint without making a large cut through the skin and other soft tissues. It is used in diagnosing and treating many problems.
Your surgeon will insert a small camera, called an arthroscope, into the new joint during the arthroscopy. This camera will provide pictures on a video monitor and with the help of these, the surgeon will guide miniature surgical instruments. 
The surgeon will make a few small incisions called portals and a sterile solution will be used to fill the joint and rinse away any cloudy fluid. This increases the strength to look inside clearly and in great detail.
Properly designed instruments are used for various tasks like shaving, cutting, meniscal repair and grasping
The surgeon thoroughly investigates the problems and if necessary correct the issue using small instruments within the arthroscope. The surgeon uses small incisions rather than larger ones which result in less pain for patients, less joint stiffness and often shortens the time it takes to recover and return to favourite activities.
This type of operation has risen to popularity because it usually requires shorter recovery times and the procedure typically takes less than 1 hour.
This type of procedure diagnoses several issues such as torn meniscus or misaligned patella.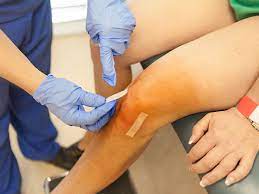 Why does it happen?
Your doctor can recommend surgery if you have a painful condition that cannot be treated with a non-surgical treatment which includes rest, physical therapy, medications or injections.
Common arthroscopic procedures are – 

1. Removal of inflamed synovial tissue
2. Trimming of damaged articular cartilage
3. Removal or repair of a torn meniscus
4. Treatment of patella issues
5. Removal of loose fragments of bone or cartilage.
It is the best method as it is used both for operation as well as to treat issues in the joints. 
Every operation has some types of complications but in this type of operation, they are minor and treated easily. Possible issues with arthroscopy include-
1. Infection
2. Knee Stiffness
3. Accumulation of blood in that area
4. Blood clots
5. Bleeding inside the joint.
These are common in every operation, but here they are very small and very less dangerous.
Advantages-
Arthroscopic Surgery tends to have many advantages over traditional ones. Some of them are mentioned below – 
1. Relief in pain
2. Lower risk of complications
3. A faster healing time
4. Less tissue damage
5. Increased mobility
6. Fewer stitches
7. Less post-operative pain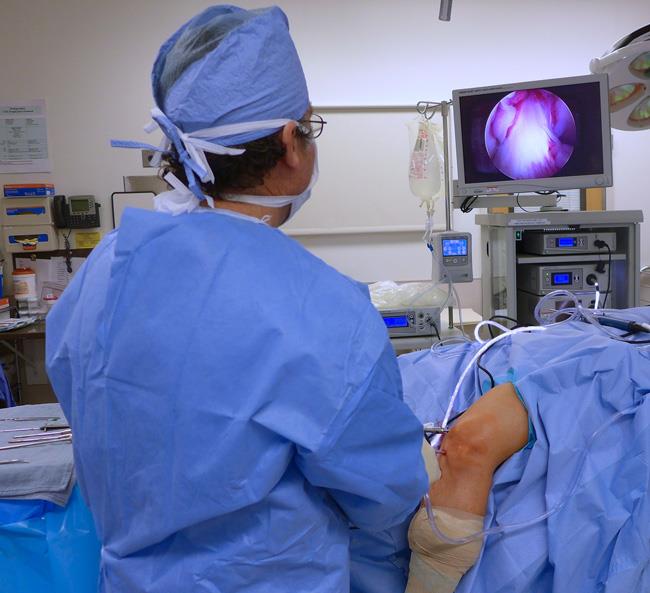 This is the only way to solve your problems in many cases. People can choose it instead of other procedures because of its vast benefits and lower risk of operation.
The surgery is done under the effect of anaesthesia which is given by a member of the anaesthesia team. This could be local, regional or general anaesthesia:
1. Local anaesthesia numbs just a part of the knee
2. Regional anaesthesia numbs below the waist
3. General anaesthesia puts the person to sleep.
The doctors will talk to you about which method is best for you and will choose the best one from the above three methods.
Recovery Procedure – 
You should be able to go home within 1 or 2 hours after the operation. But you need to be sure that you have someone to drive you home and check on you that first evening. 
It is important to follow the doctor's instructions carefully after your return home for a better recovery. 
Feeling some kind of pain is a natural part of the healing process. The doctors and nurses will work to reduce your pain and they will provide medications for short term pain relief after the operation. Doctors can also provide medication such as aspirin to lessen the risk of blood clots.
One should apply ice to relieve swelling and pain and should do therapeutic exercise to heal and improve your final result. Your doctor will provide you with a proper exercise routine to follow at home to help you recover.  These are necessary to help restore the full range of motion and strength into your muscles.
The doctors will discuss and tell you when you can drive. Many patients can drive after 1 to 3 weeks of the complete procedure.
As the recovery period is fast, the patient can return to most physical activities after 6 to 8 weeks or sometimes much sooner. 
Knee Surgery Sports Traumatology Arthroscopy is a monthly medical general which is published in English covering orthopaedic surgery and is especially related to sports trauma and surgeries in particular arthroscopies. This general was established in 1992 with Ejnar Eriksson as the founding editor-in-chief for the first 16 years. 
Having a proper session with your doctor is the best solution to this problem. Ignoring your problem could increase and result in a larger problem which could have long term effects. One should not hesitate to share his/her problems openly with the doctor who can discuss with you whether you need surgery or not.
In search of a proper session with an Orthopaedic Surgeon?
Hello, I am Dr. Amith Shetty and I am a Joint Replacement and Orthopaedic Surgeon. I have an experience of more than 11 years of dealing with patients with problems related to joints and bones. I specialize in the treatment and diagnosis of Orthopedic problems like Arthritis, fractures, backache, tendons, ligaments, nerve problems and muscles.
I have treated small children to elderly adults very safely and have provided immense support to them.
You can have Arthroscopy Surgery for Knee. My high-quality staff and provide you with 100% support 24/7. Our specialists assure you the protection you need in your hard time.
You are free to ask about your problems and their solutions. Book a consultant session with me and I will examine your area and will provide and suggest to you the best procedures regarding it.
Our members are 24/7 online and could contact you anytime. One can contact us on the mobile number given or through WhatsApp by click here. Feel free to share up your problems and have a healthy surgery with us!